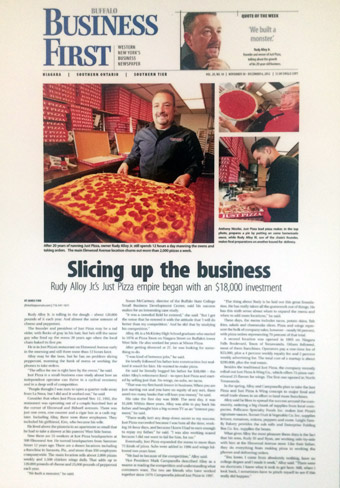 JUST PIZZA & Wing Co.® is a full-service Pizzeria located in the Western New York Area. Since opening our doors in 1992, we have provided local families and businesses with delicious, high quality food at affordable prices. All of our rolls and pizzadoughs are baked fresh daily. We use only fresh vegetables that are delivered to all of our locations daily.
Over the years, our business has evolved from a small corner Pizza Shop into the leading supplier of Pizza and Chicken Wings. We pride ourselves on the fact that we offer OVER 75 VARIETIES of PIZZA and have devloped OVER 25 VARIETIES of CHICKEN WING SAUCES served to local residents and businesses in Buffalo and throughout Western New York. We are committed to continuing our positive relationship with your neighborhood and business.
Thank you for your support. Thank you for visiting our Web site, we hope to see you soon.